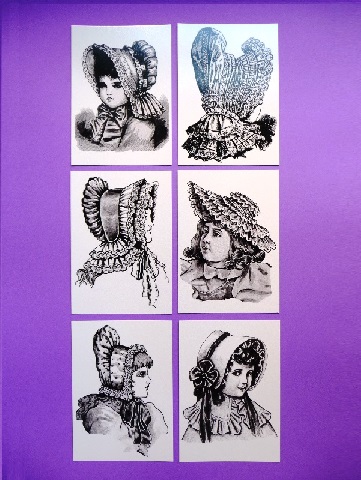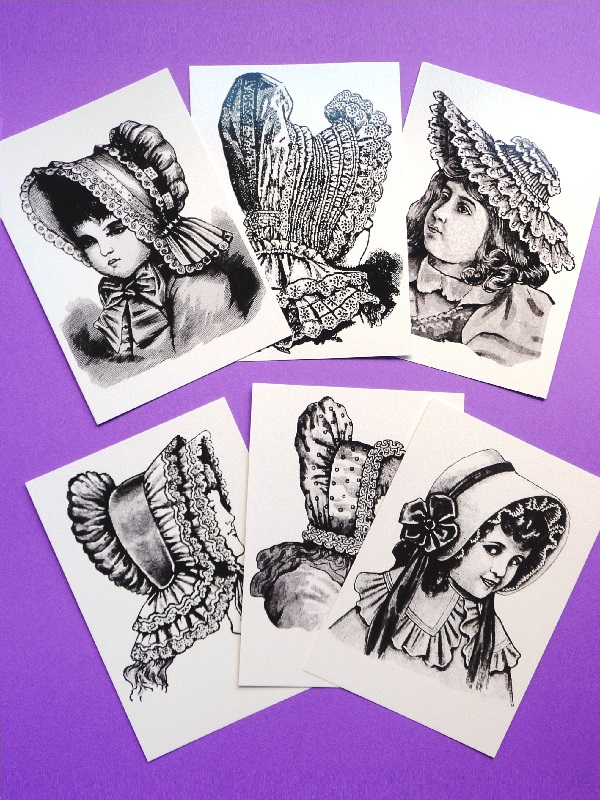 SUMMER BONNETS: A gorgeous set of 6 A6 postcards of Madame Weigel's Sun Bonnet Patterns (1886-1909).
A unique set of 6 postcards: each card is A6 in size (148mm x 105mm), printed on quality 350gsm card, with a glossy finish. The reverse side is printed with a pattern description.
Great for invitations for children's birthday parties, christening invitations, or to put in a frame to decorate a child's bedroom.
Made by mothers to shield small heads from the hot Australian sun, these sun bonnet patterns were issued in the spring and summer months in time for the summer season - and this included holidays in January. Each sun bonnet was adorned with frills and flounces and offered a broad brim for shade; some had a generous neck curtain for extra protection. Absolutely gorgeous children's wear!
Patterns included in the set:
Pattern 887: Girl's Sun Bonnet, 1886
Pattern 1061: Child's Sun Bonnet, 1888
Pattern 1481: Child's Dutch Bonnet, 1893
Pattern 1566: Child's Sun Bonnet, 1893
Pattern 2017: Girl's & Lady's Sun Bonnet, 1897
Pattern 3380: Girl's Sun Bonnet, 1909
8.00 AUD
People also love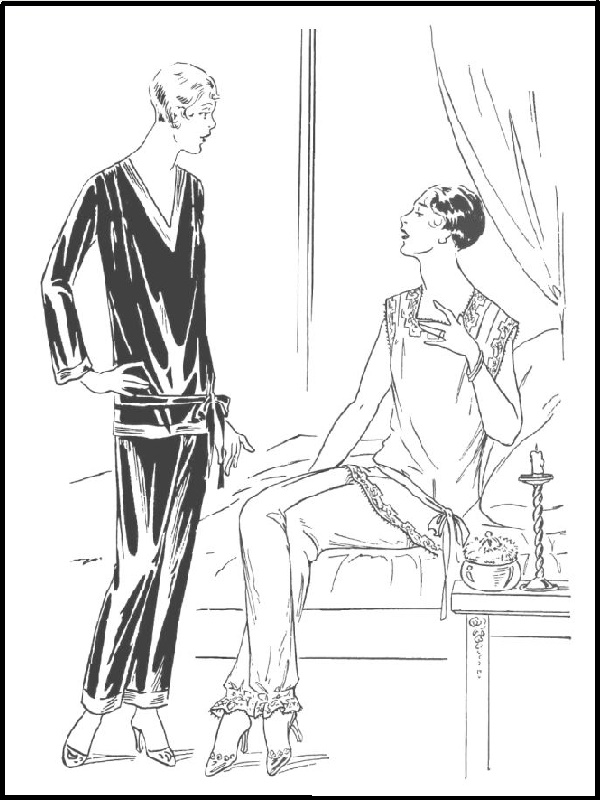 22 Jun 2016

12:33 PM
LADY'S PYJAMAS: Pattern 5383: Lady's Pyjamas, in Two Styles (1928)
'These dainty pyjamas are very simply made, and are suitable for summer or winter wear' - read the pattern text.


Issued in 1928 in Madame Weigel's Journal of Fashion, these elegant slimline pyjamas reflected the style of the decade. Two styles were offered: in v-neck with contrasting bands, or square neck with filet insertion. The pyjamas legs could be loose or drawn in.

Suggested fabrics were viyella, winceyette, crepe de chine, Fuji silk, or washing satin. Gorgeous!
More...
2.00 AUD
Add to Cart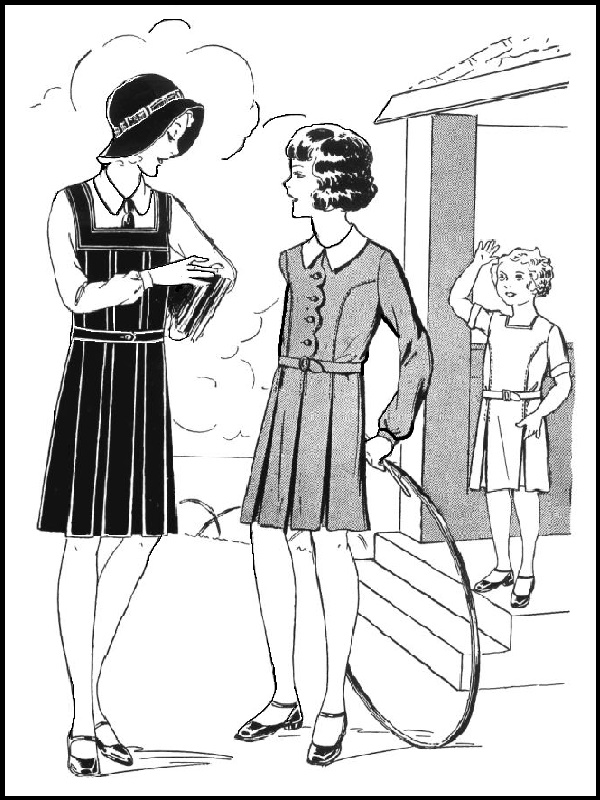 28 Jan 2016

1:36 PM
OFF TO SCHOOL: Pattern 5805: Girl's Tunic & Pattern 5810: Girl's Frock (1932)
A delightful illustration showing friends in the school yard.

Pattern 5805: Girl's Box-Pleated Tunic was described as a 'regulation uniform' suitable for most schools in Madame Weigel's Journal of Fashion in 1932. Pattern 5810: Girl's Frock was seen as a 'practical little frock' with three inverted pleats in front.
More...
2.00 AUD
Add to Cart