About the Author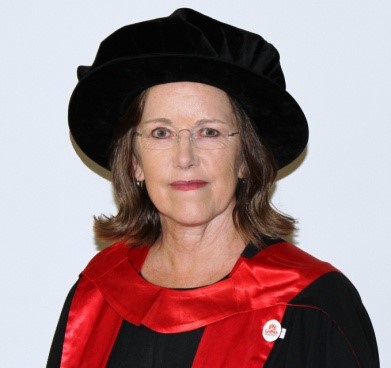 For most of the past ten years, I have been absorbed by my study of Madame Weigel's publications. My focus soon settled on Madame's extensive series of paper patterns for home sewing. Now, having captured details of over 9000 patterns between 1878 and 1969, I have constructed an evidential record of her pattern series for future research and publications.
My PhD study from 2007 to 2013 culminated in the award of my Doctorate with Academic Excellence at Queensland College of Art, Griffith University, Brisbane, in 2013. My thesis, "Mining the Archive: an historical study of Madame Weigel's paper patterns and their relationship to the fashion and clothing needs of colonial Australasia during the period 1877 to 1910", explored how Madame Weigel's publications reached across Australia and New Zealand to support millions of women who sewed at home to clothe their families. My thesis is available on the Griffith University website.
Using the extensive data gathered together, my aim is now to place my findings on the public record. My first publication, a biography entitled "Madame Weigel: the Woman who Clothed the Australasian Colonies", was published in May 2015. I am now working on my next publication focussing on Madame Weigel's pattern series - a companion volume to Madame's biography.
For anyone who is curious about Madame Weigel, this biography introduces the woman who was Madame Weigel. A remarkable women, her achievements were impressive. For anyone interested in home sewing, her story holds a particular fascination: having sewn and stitched throughout my life, that was how my own interested started.
My previous careers focussed on librarianship, teaching and graphic design, each of which has contributed in its own way to the Madame Weigel study discipline. After studying at Central School of Art & Design, London, I went on to further studies at various universities whilst working in primary, secondary and tertiary education.
As an independent scholar, I have chosen to privately publish my work, commissioning an Australian company to print a quality hardback, section sewn book. Later works will focus on Madame Weigel's patterns, journal, and business. Through social media I am steadily presenting more ephemeral aspects of my Madame Weigel study.
Based on the Gold Coast, Queensland, I am presenting Madame Weigel's story through a series of forums, listed below. Newspaper and journal features have spread the word around Australia.
That is my mission - to spread the Madame Weigel word! To reawaken her from her long, long slumber!
I am happy to answer queries about Madame Weigel's story and publications. If you are interested in a presentation to your group, tailored to their area of interest, then contact me through this website.
Dr Veronica R. Lampkin, PhD
Madame Weigel devotee, writer, collector
Out & About with Madame Weigel
PRESENTATIONS & ACTIVITY
*** THIS WEBSITE IS CURRENTLY CLOSED FOR ORDERS ***
General enquiries can be made by email via the contact page
September 2017- : Working with the Templin Historical Village near Boonah, Queensland, on their marvellous exhibition of garments sewn from Madame Weigel's patterns - a fabulous show by some inspired and skillful volunteers!
13 August 2016: 'Madame Weigel and the Dickens sisters of Melbourne'. For the NSW Dickens Society, venue Castlereagh Boutique Hotel, 169 Castlereagh Street, Sydney. Guests welcome - contact the Society at https://dickenssydney.com/2015/11/28/2016-nsw-dickens-society-events/
2 August 2016: 'Madame Weigel: the Woman who Clothed the Australian Colonies - Miles Franklin & Madame Weigel?'. For the Scholarly Musings program, State Library of NSW, Sydney. http://www.sl.nsw.gov.au/events/scholarly-musings-madame-weigel *Full house with wait list for this one!**
30 June 2016: 'Fabrics & Fibres: a Colonial view through Madame Weigel's patterns'. For the Australian Sewing Guild: Brisbane South Sewing Forum.
3 May 2016: 'Madame Weigel: the Woman who Clothed the Australasian Colonies'. Daylesford Library, Victoria.
3 May 2016: 'Madame Weigel: the Woman who Clothed the Australasian Colonies'. Clunes Library, Victoria.
2 April 2016: 'Madame Weigel: Colonial Fashionista'. For the National Trust (NSW) in conjunction with the Miss Fisher's Murder Mysteries Fashion Exhibition, Old Government House, Parramatta, Sydney.
1 October 2015: 'Sewing for a family with Madame Weigel's Patterns'. Guest speaker for the Australian Sewing Guild Convention 2015, Anglican Church Grammar School, Brisbane.
RADIO
24 July 2015: 'Madame Weigel: Colonial Fashionista'. For ABC Radio National: Books & Arts Daily, interview with Michael Cathcart. http://www.abc.net.au/radionational/programs/booksandarts/madame-weigel3a-the-paper-cut-pattern-queen/6644368
ARTICLES
November 2015: 'Clothing the Colony'. Feature in Inside History, Nov-Dec 2015, 52-55.
November 2015: 'Madame Weigel meets the Australian Sewing Guild'. Feature in Australian Dressmaking with Stitches, Issue 24/6.
November 2015: 'Madame Weigel: the Woman who Clothed the Australasian Colonies'. Feature in Ruth: supporting the work of the Queensland Country Women's Association. Summer 2015/16, 31.