The Lady - Madame Weigel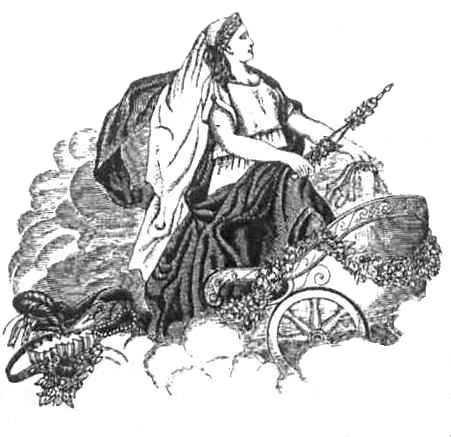 The woman and the chariot!
This image was an integral part of the first header in Weigel's Journal of Fashion, the famous fashion journal published by Madame Weigel from 1878 to 1950. If this was how she saw herself, then she was a woman ready for action, bringing her paper patterns to the women of the Antipodes to enable them to follow fashion.
Madame Weigel's girlhood had been Prussian until a family crisis saw her move to Vienna in the early 1860s. From there, she migrated to America in 1872 and spent five years working in New York where she met and married Oscar Weigel, a pivotal character in her life and in the business they later established in Melbourne, Australia, after migration in 1877.
Madame Weigel offered a vital new development for Australasian seamstresses – paper patterns for home sewing. Issued through her fashion journal, Weigel's Journal of Fashion, Madame Weigel's paper patterns soon gathered a loyal following that often endured for decades.
The couple worked hard to achieve success, then in the 1890s left on their first long tour to Europe. Whilst away, Madame Weigel provided a series of letters for publication in Weigel's Journal of Fashion. Three more series of travelogues followed, each giving fascinating detail of the woman that she was, the life that she led, the fashions, nationalities, and people that she saw.
Madame Weigel was a keen observer of life in Australia and overseas. Having stayed in many of the grand hotels of Europe, Canada and America, her fellow guests fascinated her, as did the many conversations she overheard.
Her greatest passion was as a motorist. She had learnt to drive in Paris in 1900, and much later in life wrote that she was the first woman in Nice, on the French Riviera, to hold a motor driving license in 1901. She had driven down through France in these very early days of motoring, proud to have travelled without incident.
Madame Weigel was willing to be seen as radical, taking on motoring, winter sports, cycling and sea bathing when women should not have, including the rational clothing needed for such new activities. More than able to address the critics who opposed such outrageous developments in women's lives, she wrote - and signed - many articles for her journal's readers to empower them towards change.
After a long life of 92 years, Madame Weigel died in 1940, her business continuing on until 1969 in the care of her employees.
Many of the artefacts that are Madame Weigel's journal, patterns and catalogue, as well as items made from her patterns, have been found and collected by enthusiasts. She was, and continues to be, the most remarkable of early Australasian business women.