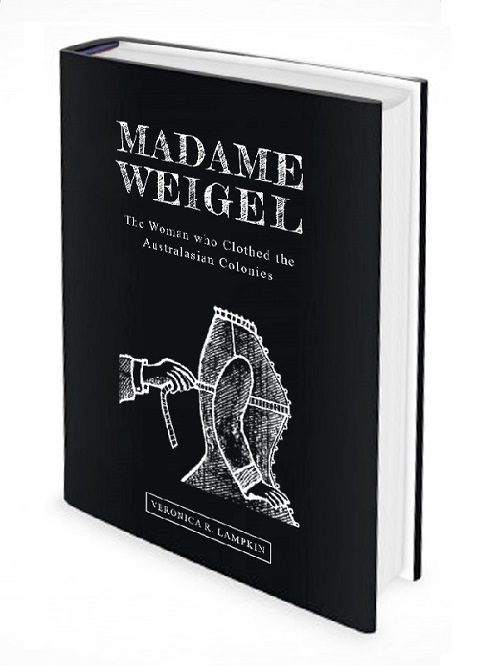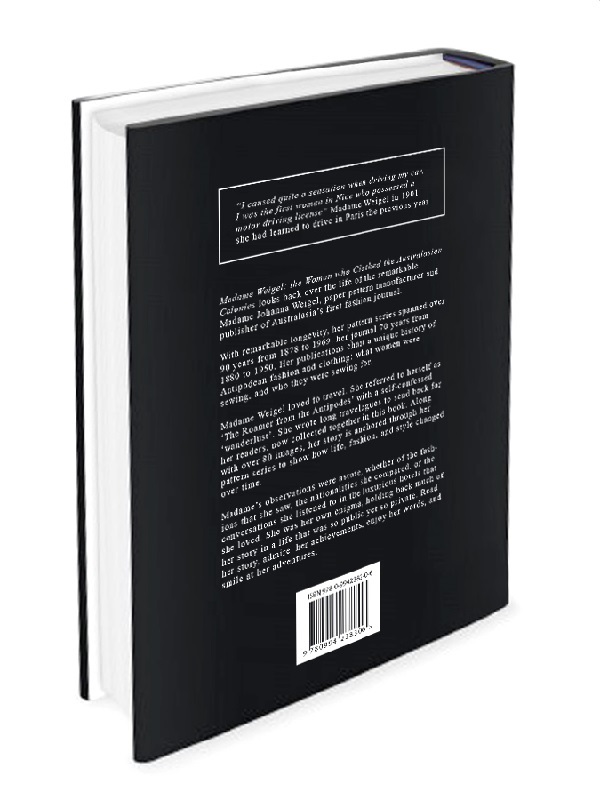 BIOGRAPHY: 'Madame Weigel: the Woman who Clothed the Australasian Colonies'
This biography, 'Madame Weigel: the Woman who Clothed the Australasian Colonies', presents the story of Madame Weigel's life.
ABOUT THE BOOK
Title: Madame Weigel: the Woman who Clothed the Australasian Colonies
Author: Veronica R. Lampkin
Publication: Privately published, 2015; printed by Ligare Book Printers, Sydney; Print Consulting by Inscope Media, Sydney
Format: Hardback; 336p text + 48p images (black & white); measures 245 x 180mm; references, endnotes; index; each individually shrink wrapped by the printer
This biography, Madame Weigel: the Woman who Clothed the Australasian Colonies, looks back over the life of the remarkable Madame Johanna Weigel, paper pattern manufacturer and publisher of Australasia's first fashion journal.
With remarkable longevity, her pattern series spanned over 90 years from 1878 to 1969, her journal 70 years from 1880 to 1950. Her publications chart a unique history of Antipodean fashion and clothing: what women were sewing, and who they were sewing for.
Madame Weigel loved to travel. She referred to herself as 'The Roamer from the Antipodes' with a self-confessed 'wanderlust'. She wrote long travelogues to send back for her readers, now collected together in this book. Along with over 80 images, her story is anchored through her pattern series to show how life, fashion, and style changed over time.
This work includes some newly presented photographs that surely show the good lady herself. Whilst Madame Weigel gave only crytic captions to the photographs that she published, her veil of secrecy was often too thin for her to remain hidden.
Madame's observations were astute, whether of the fashions that she saw, the nationalities she compared, or the conversations she listened to in the luxurious hotels that she loved. She was her own enigma, holding back much of her story in a life that was so public yet so private. Read her story, admire her achievements, enjoy her words, and smile at her adventures.
This book examines the myths and legacies surrounding Madame Weigel's story:
Her early life in Prussia - some facts uncovered
How did she arrive in New York?
Who did she work for there?
Where does McCalls fit into her story?
The honeymoon that brought her to Australia
Was her business just a happy accident?
Click on these links to see the book's contents page 1, contents pages 2 & 3, a sample of the main text and illustrations, and of the index.
FEEDBACK ON THE BOOK ...
I have received your beautiful book ... Magazine Editor, Queensland
I just wanted to thank you so much for the fabulous book ... it just looks so interesting and you have obviously put so much research into it – congratulations on your wonderful work. From country Victoria
Your beautiful book arrived today. It is amazing and I will treasure it. Your research work is incredible. Thank you. From Sydney
I have just received your wonderful book. I have been so engrossed that I am sitting in my office with a neglected in-tray and freezing cold because I haven't torn myself away to turn on the heater. From Melbourne
Your book is a fabulous professional piece of work – not just the scholarly content which is presented in an eminently readable form but the quality of the illustrations and production of the book itself. Well done. From Brisbane
I love the book. National Organisation buyer
I have not yet had time to read your book - just browsed a few pages and oh those illustrations! I know that, quite apart from the nostalgia, I will really enjoy it and learn so much from a heritage perspective. As a family historian, I can also appreciate the depth of the genealogical and biographical information that you have researched about Madame Weigel. Well done! Inside History prizewinner
55.00 AUD
People also love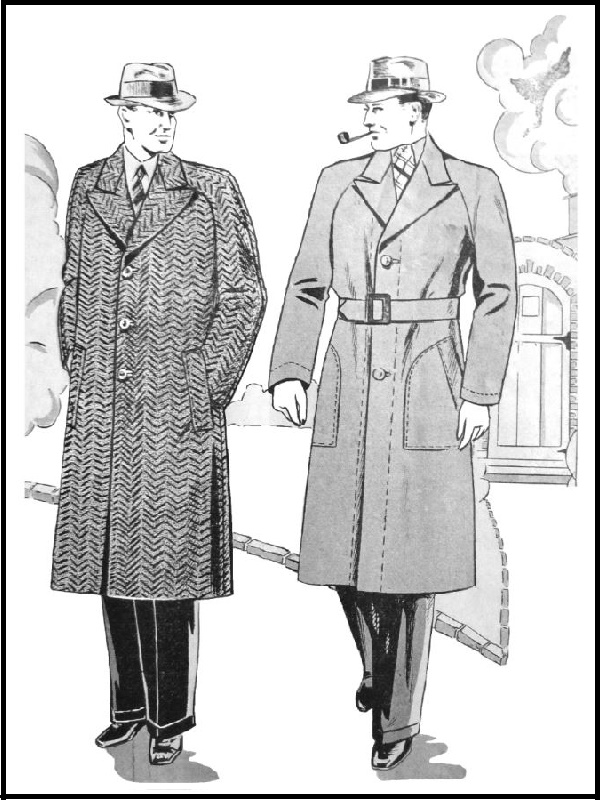 10 Sep 2016

2:23 PM
1930s MEN: Pattern 6247: Man's Raglan Overcoat
Dust coats featured regularly in Madame Weigel's pattern series. This raglan sleeved coat pattern came in two styles: an overcoat with three piece raglan sleeves and welt pockets, or a dust coat with one piece sleeves, so easier to make. From Madame Weigel's Journal of Fashion, 1936.
More...
2.00 AUD
Add to Cart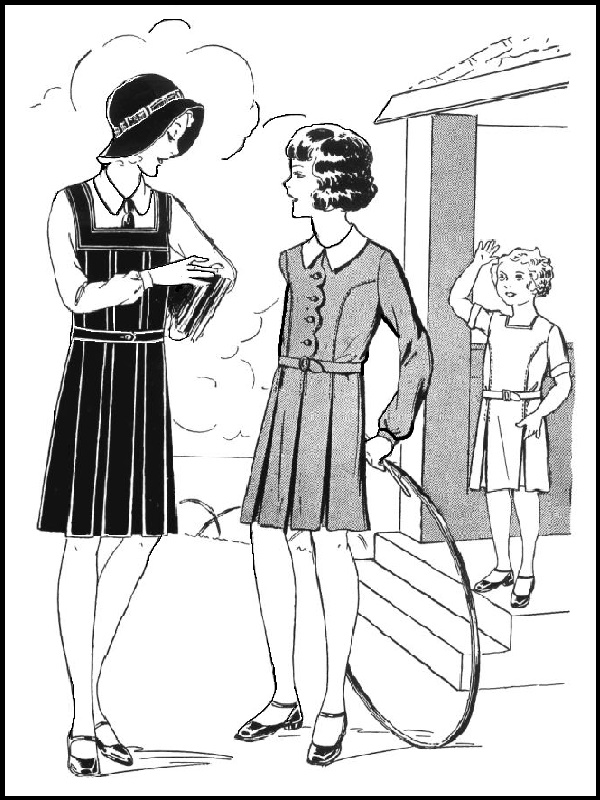 28 Jan 2016

1:36 PM
OFF TO SCHOOL: Pattern 5805: Girl's Tunic & Pattern 5810: Girl's Frock (1932)
A delightful illustration showing friends in the school yard.

Pattern 5805: Girl's Box-Pleated Tunic was described as a 'regulation uniform' suitable for most schools in Madame Weigel's Journal of Fashion in 1932. Pattern 5810: Girl's Frock was seen as a 'practical little frock' with three inverted pleats in front.
More...
2.00 AUD
Add to Cart