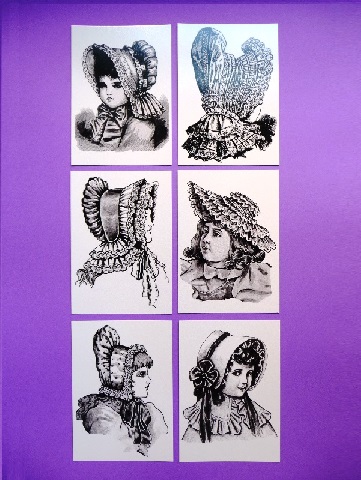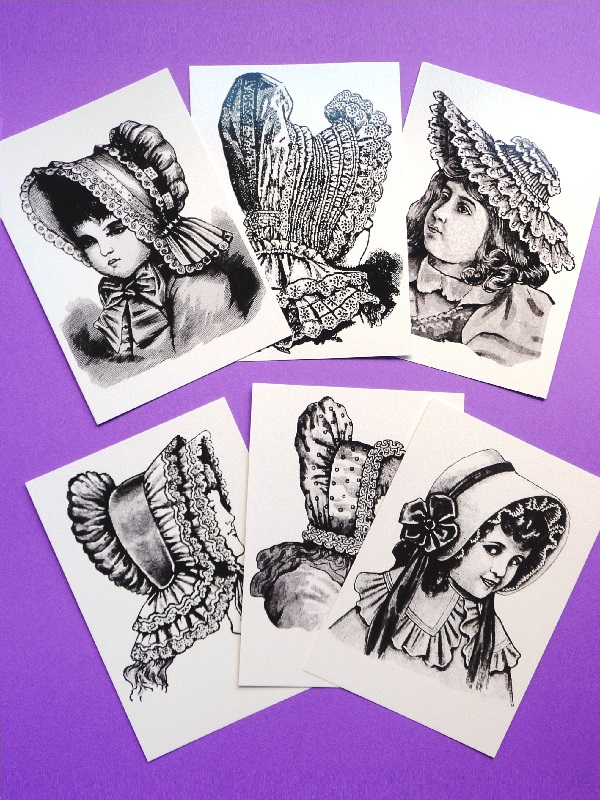 SUMMER BONNETS: A gorgeous set of 6 A6 postcards of Madame Weigel's Sun Bonnet Patterns (1886-1909).
A unique set of 6 postcards: each card is A6 in size (148mm x 105mm), printed on quality 350gsm card, with a glossy finish. The reverse side is printed with a pattern description.
Great for invitations for children's birthday parties, christening invitations, or to put in a frame to decorate a child's bedroom.
Made by mothers to shield small heads from the hot Australian sun, these sun bonnet patterns were issued in the spring and summer months in time for the summer season - and this included holidays in January. Each sun bonnet was adorned with frills and flounces and offered a broad brim for shade; some had a generous neck curtain for extra protection. Absolutely gorgeous children's wear!
Patterns included in the set:
Pattern 887: Girl's Sun Bonnet, 1886
Pattern 1061: Child's Sun Bonnet, 1888
Pattern 1481: Child's Dutch Bonnet, 1893
Pattern 1566: Child's Sun Bonnet, 1893
Pattern 2017: Girl's & Lady's Sun Bonnet, 1897
Pattern 3380: Girl's Sun Bonnet, 1909
$10.00
People also love