10 May 2015

2:19 PM
Veronica Lampkin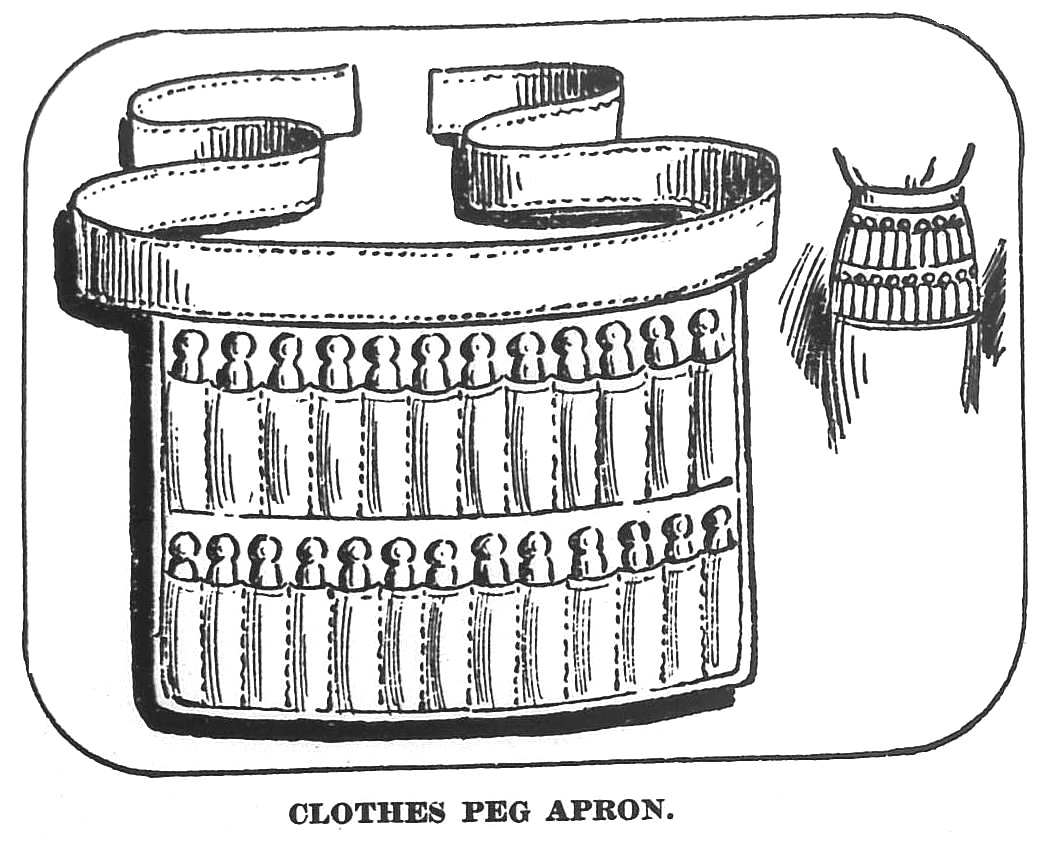 TIPS FOR WARDROBE AND HOME FROM 'WEIGEL'S JOURNAL OF FASHION'
With the war effort relentlessly pushing on, efficiencies were needed around the home to make life easier and more efficient. This nifty little peg apron was one of the ideas from 'Madame Weigel's Journal of Fashion' of October 1918, with the text advising:
'To save all unnecessary stooping is one of the aims of the practical housewife, nowadays. The accompanying design is given to show her how she can avoid some of it on washing day. This novel apron affair is made with a remnant of unbleached linen or other suitable material. It consists of a double row of small narrow pockets into which the pegs may be slipped.
These pockets can be sewn into a band that can be tied round the waist. In this position the pegs can be removed one by one from the pockets as they are required, without stooping. The pockets can, or course, be tied round the waist in a moment, and the task of filling them will amuse the little folks.'
As for the wardrobe, it wasn't long after the start of World War I that 'Madame Weigel's Journal of Fashion' recommended thrift and caution in fashion and clothing. Many suggestions were just common sense, a value close to Madame Weigel's heart, including the need for women to find a style that suited them, then stick to it, changing only what was necessary.
Clothing now needed to be practical, and in April 1915 'Weigel's Journal of Fashion' included styles that were both practical and becoming for 'the women and girls of the Commonwealth and Dominion'. The plain garments below were typical of developing trends, all from Weigel's 1914 journal, with some original patterns and some repeated after earlier issues:
Pattern 3752: Lady's Coat, long or ⅞ length
Pattern 3779: Boy's Overcoat
Pattern 3864: Lady's Skirt, 3 piece, slightly high waisted with strap at back
Pattern 3788: Child's Magyar Nightdress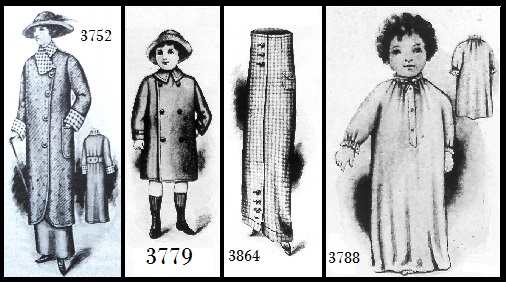 Clothes maintenance also came to the fore, to look after what was already in the wardrobe: coats should be hung on hangers to keep their shape; gloves should be folded flat instead of being screwed up into a ball; ribbons should be rolled up; hats should be put away into drawers or boxes where they have plenty of room.
Clothes hangers could be simply made, Weigel's Journal advised in June 1915, out of bamboo from the garden and a 'piece of stout wire'. Both were readily available so the hanger 'can quite easily be made anywhere in Australia'. Even better, the length of the hanger could be adjusted to the size of the coat to be hung.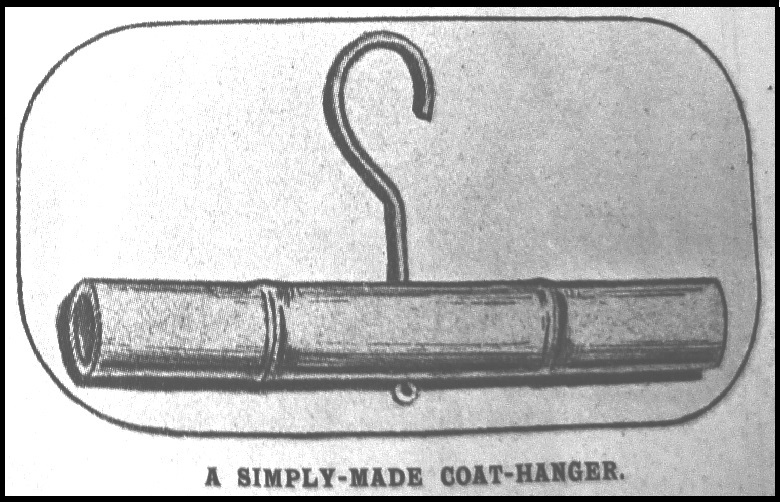 Laundry hints were regularly provided, especially helpful for those women who now had to manage their own laundry: remove spots and marks immediately; keep clothes well pressed and mended; and wear a large apron in the house even over the oldest clothes.
And particularly important – remove street clothing on returning to the house and change into a clothes kept for indoor wear, such as a cloth skirt.
© Dr Veronica R. Lampkin: Madame Weigel's Patterns. 10 May 2015.