30 May 2015

3:59 PM
Veronica Lampkin
HOW MADAME WEIGEL MANAGED WINTER
The Antipodean winter: the season for entertainment in Australasia
Winter fashions in Madame Weigel's pattern series meant patterns for warmth, and patterns for formal wear for the annual social season. June, July and August saw some of Madame Weigel's Antipodean customers bracing for cold weather, although many enjoyed the transseasonal nature of the Australasian climate – gentle changes in temperature from month to month. Although the Australian climate is most remembered for heat, in 1885 the renowned traveller George Sala recalled visiting the mountainous regions of NSW where the temperatures of minus 3o were so bitterly cold that he longed for his fur pelisse. Previously used on the Russian steppes, sadly he had left this behind in Sydney.

Ever practical, Madame Weigel's correspondents asked plenty of questions. In 1896, 'M.H.' received a reply about 'the fashionable fur pelerines'; also shown here is a knitted pelerine 'for elderly ladies' from 1896.
In 1888, Weigel's journal reported that June was a time of year when outdoor wraps became a necessity. July was often seen as cold and dull, with fretful skies and pitiless winds, and furs reigned supreme, with cloaks and coats worn over dresses for warmth. The simplicity of tailor made costumes suited heavier, draped fabrics, and close fitting garments added extra warmth. August offered festive evenings, discussions of spring fashions, and winter stock sold off in the shops as Spring approached. As fabrics changed, the 'seasonal fabrics' of autumn were replaced by 'any fashionable winter fabric', such as tweed, velvet, serge, zibeline, astrakhan, plush and sealskin.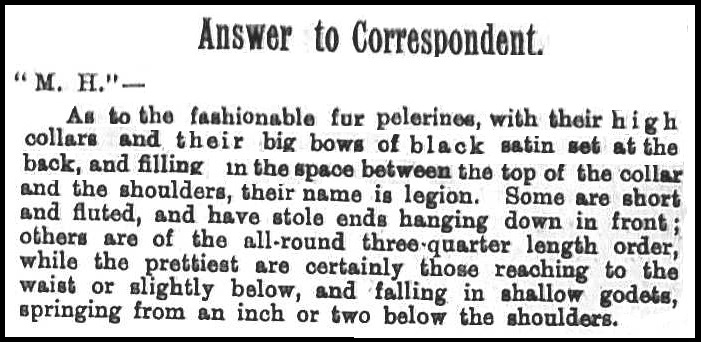 Debate about which fur was favoured featured regularly in Weigel's journal, including grey fur, seal skin, squirrel, chinchilla, black fox, and ermine. Furs were a personal favourite of Madame Weigel: whilst at a fashionable cafe in Monte Carlo in early 1923, she had watched a party of girls near her table, noting her pleasure that each had a 'good fur coat' thrown over her chair. She saw this garment as a real friend to the winter traveller, useful as an evening wrap, motor rug, or extra bed cover.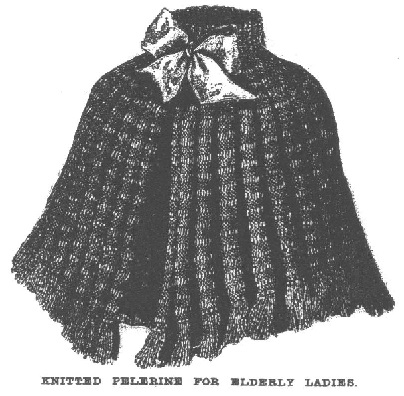 In 1899 a correspondent to Weigel's Journal of Fashion from Tasmania asked how prepare a sheepskin to make a boa; in 1910, advice came from an experienced NSW rabbit trapper on how to tan skins in Home made furs. Mrs Lance Rawson's 1894 guide for Australian households included an index showing how to cure, tan, colour and purify the skins of opossum, kangaroo, bear, platypus, emu, sheep, and birds' feathers.
Madame Weigel's readers used the long winter evenings to renew underwear supplies, and winter patterns included slip bodies and petticoats in thicker fabrics for underwear, and coats, dolmans, and paletots for outdoor wear. An early men's pattern was Pattern 781: Gentleman's Crimean Shirt, issued in August 1885, and seen as the most comfortable winter garment in flannel or fine wool. In May 1909, Weigel's journal advised on winter comforts in the house, bringing out heavy curtains for windows and doors, eiderdown quilts, and screens for draughty corners. Summer items to be packed away included muslin curtains, 'fly proof crockery curtains', and mosquito nets.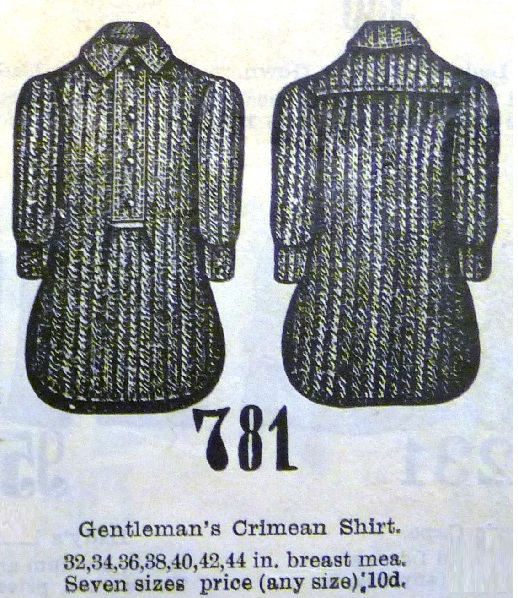 The formal winter season of evening entertainments was an ann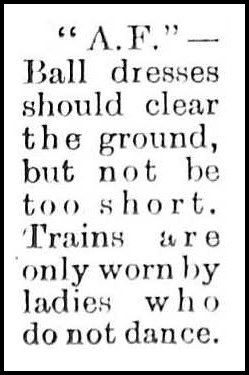 ual feature in Weigel's Journal of Fashion and pattern series as illustrations showed scenes at balls, the opera and theatre. These were the prominent fashions for society settings, where scrutiny was inevitable and judgement passed. Weigel's correspondents continued to seek help: in July1886, advice was given to 'AF' that ball dresses should clear the ground, but not be too short, and that trains were only worn by ladies who did not dance; in October 1904, 'White Heather' was advised on the correct length and colour of gloves to wear with a black evening dress; and in December 1906, 'Etiquette' of Geelong, Victoria, was informed that the order of entry to a public ballroom was as for a private ball, with ladies first and gentlemen in attendance slightly at the rear.

Between May and August each year, the lead position in Weigel's journal was used to promote the season's evening outfit. Usually a costume comprising a bodice and skirt, the garments were sumptuous, made up in fabrics that included brocade, velvet, satin, gauze, or silk. Typical were Patterns 1138 and 1139 for a Lady's Evening Costume, shown alongside. Craft items in Weigel's journal supported winter social events, such as opera cloaks and opera glass bags.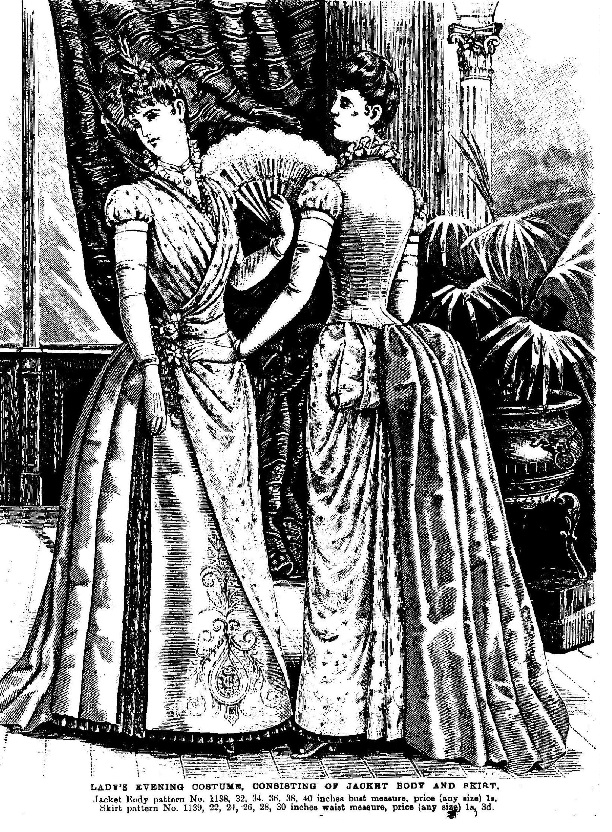 Weigel's pattern series showed only minor alignment with the court needs of Australian upper class society, reflecting Australia's lesser emphasis on the old country's aristocratic traditions. Importantly, the scarcity of paper patterns for home sewn court fashion also reflected the fact that those who attended such functions would not be sewing their own clothes. However, Weigel's journal described ceremonious dresses in the 1880s, and later issued two 'court train' patterns including Pattern 3329: Lady's Court Train in June 1909.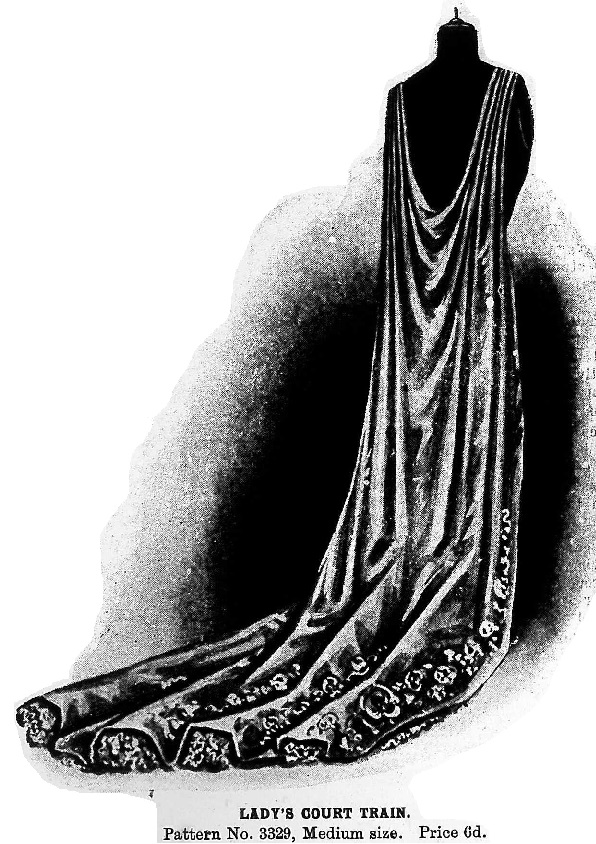 A Ballarat correspondent, 'Novice', was advised in October 1911 that the correct length for a court train was 3½ to 4 yards, depending on the wearer's height and the drop of the train.
Fancy dress featured regularly in the winter months in Weigel's journal, and similarly in northern hemisphere winter journals; sometimes with up to forty costumes in one month, Weigel's journal credited some copy to the English journal, The Queen.
© Dr Veronica R. Lampkin / Madame Weigel's Patterns
Sources
Weigel's Journal of Fashion; Rawson, Mrs Lance. 1895. The Antipodean cookery book and kitchen companion. Facsimile of the first edition, Kenthurst, NSW: Kangaroo Press, 1992; Sala, George. 1885. Twixt Bourke and Collins. Pt. VIII. The Land of the Golden Fleece. The Argus. 14 Aug., 6.